LITAS Launches COVID-19 Taskforce
LITAS For Girls has recently launched a series of virtual seminars for middle and high school girls, focused on how data science can be used to combat pandemics such as the COVID-19 pandemics. The organization has also assembled the LITAS COVID-19 taskforce, a virtual community of students from around the globe working on original projects to combat COVID-19.
Though we are far apart, we can still build solutions together.
The COVID-19 pandemic has affected every aspect of life across the globe. The number of COVID-19 cases has risen to 8 million worldwide, with 446k deaths (WHO).
According to the UN Council, COVID-19 pandemic is a public health emergency — but it is far more. It is an economic crisis. A social crisis. And a human crisis that is fast becoming a human rights crisis.
There is a need for innovative ideas and actions from all quarters to help with COVID-19 relief efforts. LITAS For Girls has assembled a community of students passionate to learn and use data science to help combat this pandemic through webinars, student projects, and a vibrant online community of students.
LITAS's first webinar on Data Science and Pandemics, held on 28th March 2020, aimed at teaching students how data science has been used to battle diseases in the past, such as 2014 Ebola Epidemic, and discuss current approaches and potential projects using data analytics for the Covid 19 outbreak. The second webinar was held on Saturday, April 19th.

The events were hosted by Anvita Gupta (founder & CEO, LITAS for Girls, Stanford 2019, speaker at the White House Ebola Innovator Summit.) The first half was a technical talk and the second half consisted of a brainstorming session for students to come up with COVID-19 related projects.
For the webinars, LITAS selected thirty high school and college girls who learned about how data science has been used to combat past pandemics, played with The New York Times and #johnshopkins epidemiology datasets, and brainstormed eight original projects to help with the COVID19 crisis.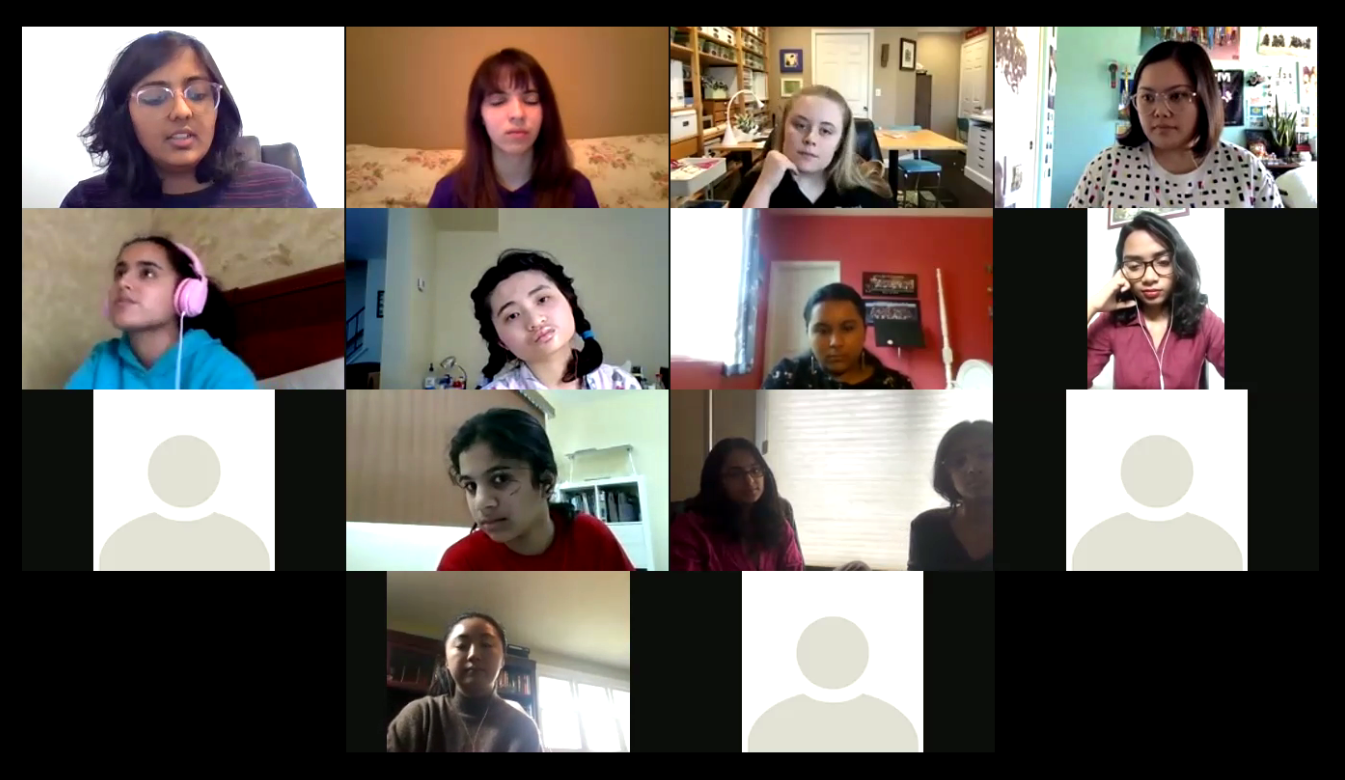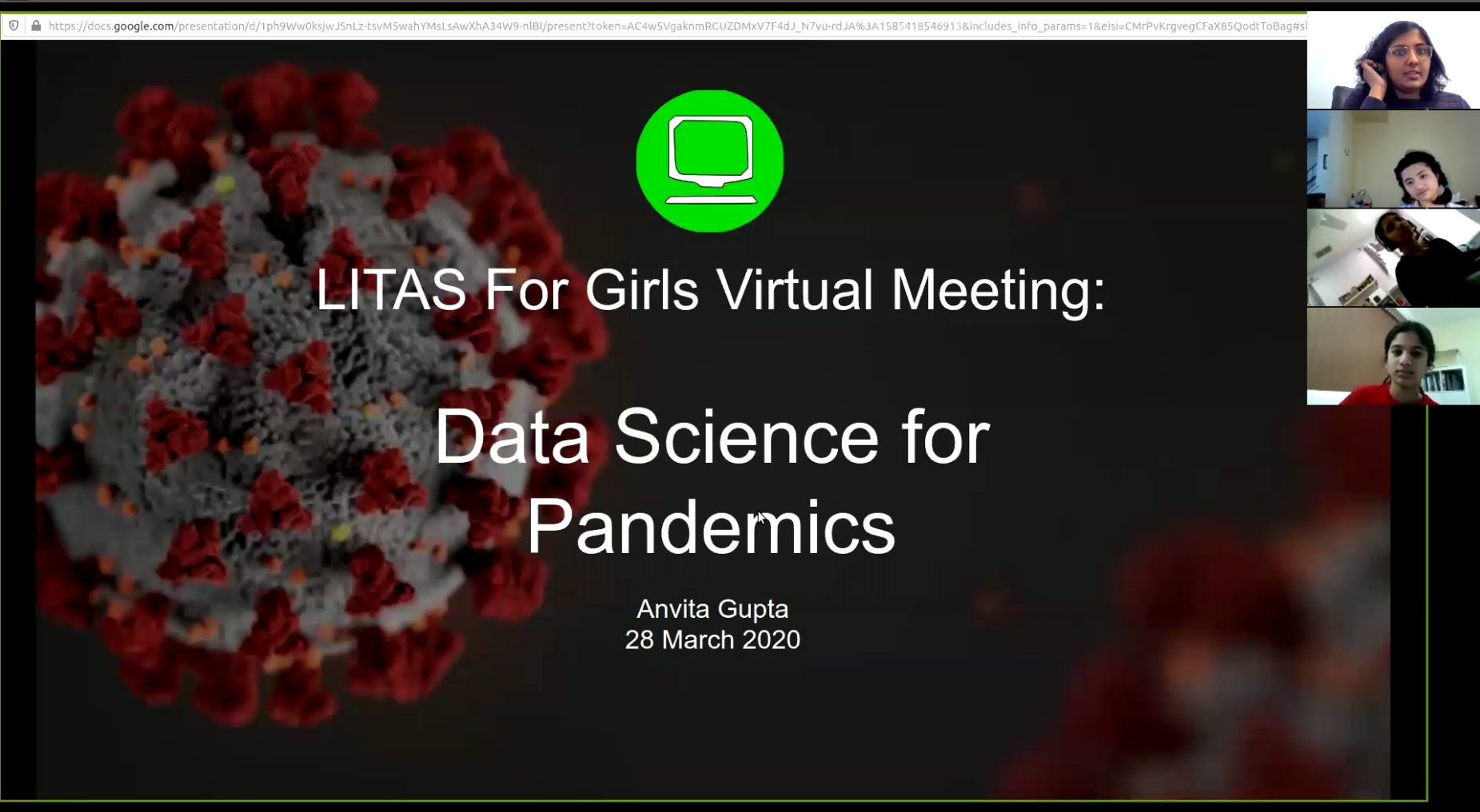 Project 1 - Fake News Detection
There is a great amount of false information circulating on Whatsapp, FB, and other platforms regarding COVID-19. This project aims to flag fake news and alert people before it goes "viral." through Natural Language Processing techniques and data scraping from social media platforms.

Project 2 - Dashboard for daily COVID-19 management
This project aims to create a comprehensive app to help people track number of COVID-19 cases in their county, what their social distancing score is, restaurants and activities that are open in their area, as well as alerts from city management.
Project 3 - ML to Predict Curve Flattening
Using Machine Learning + physical data (GIS+LIDAR) to predict when the COVID-19 curve will start flattening. First step might be to correlate COVID-19 with environmental features like elevation.
Project 4 - App for store management
App so that shops and customers can track how many people are in line, can possibly reserve times to visit the store (like one does with restaurants), in order to promote social distancing for safer shopping.

Project 5 - Prioritizing people for tests
Tracking people's symptoms through user based input and natural language processing techniques. Users will be assigned a score based on their risk due to COVID-19, in order to prioritize which people need tests more quickly.
Project 6 - Distributed Drug Discovery
This project aims to allow people to donate computer time for large scale drug discovery projects. This project can involve drug discovery efforts for COVID-19 in general.
Project 7 - Ventilator Next
Using AI to predict which places will be in need of ventilators in the next few weeks, allowing manufacturers to direct their attention to making and shipping ventilators to those places.
Project 8 - Mask Delivery
This project aims to create a platform - specifically a webapp - to connect communities and clubs making DIY masks with hospitals and institutions who require cloth masks.
Watch this space for more on our webinars, COVID-19 projects, and student community.